Review article
Open Access
On the descent of the epididymo-testicular unit, cryptorchidism, and prevention of infertility
Basic and Clinical Andrology
Journal officiel de la Société d'andrologie de langue française
2017
27:21
Received: 19 September 2017
Accepted: 27 October 2017
Published: 14 November 2017
Abstract
This comprehensive review provides in-depth coverage of progress made in understanding the molecular mechanisms underlying cryptorchidism, a frequent pathology first described in about 1786 by John Hunter. The first part focuses on the physiology, embryology, and histology of epididymo-testicular descent. In the last 20 years epididymo-testicular descent has become the victim of schematic drawings with an unjustified rejection of valid histological data. This part also includes discussion on the roles of gonadotropin-releasing hormone, fibroblast growth factors, Müllerian inhibiting substance, androgens, inhibin B, and insulin-like 3 in epididymo-testicular descent. The second part addresses the etiology and histology of cryptorchidism as well as the importance of mini-puberty for normal fertility development. A critical view is presented on current clinical guidelines that recommend early orchidopexy alone as the best possible treatment. Finally, by combining classical physiological information and the output of cutting-edge genomics data into a complete picture the importance of hormonal treatment in preventing cryptorchidism-induced infertility is underscored.
Keywords
Epididymo-testicular descentCryptorchidismRNA sequencingGnRHa-treatmentMini-pubertyInfertility
Résumé
Cette revue complète traite en profondeur les progrès réalisés dans la compréhension des mécanismes moléculaires à la base de la cryptorchidie, une pathologie fréquente décrite pour la première fois aux environs de 1786 par John Hunter. La première partie est. centrée sur la physiologie, l'embryologie et l'histologie de la descente épididymo-testiculaire. Durant les 20 dernières années, la descente épididymo-testiculaire est. devenue la victime de dessins schématiques associés à un rejet injustifié de données histologiques valides. Cette partie discute aussi les rôles qu'ont dans la descente épididymo-testiculaire l'hormone libérant les gonadotrophines, les facteurs de croissance fibroblastiques, l'hormone antimüllérienne, les androgènes, l'inhibine B, et l'insuline-like 3.
La seconde partie aborde l'étiologie et l'histologie, ainsi que l'importance de la minipuberté pour un développement normal de la fertilité. Un regard critique est. porté sur les recommandations cliniques actuelles qui conseillent la seule orchidopexie précoce comme le meilleur traitement possible. Finalement, en combinant les informations issues de la physiologie classique et la production des données génomiques les plus en pointe dans un tableau complet, l'importance du traitement hormonal dans la prévention de l'infertilité induite par la cryptorchidie est soulignée.
Mots-clés
Descente épididymo-testiculaireCryptorchidieSéquençage d'ARNAnalogue du Gn-RHMinipubertéInfertilité
Epididymo-testicular descent
Several animal studies have shown that the testis regulates its own descent by secreting hormones [for a summary see [1]. Furthermore, it is generally believed that hormonal stimulation induces a gubernacular reaction that is thought to be the most important mechanism for successful descent of the male gonad [1–4]. That said, complete early neonatal transection of the gubernaculum does not prevent epididymo-testicular descent [5] calling its postulated role into question.
Rather than gubernaculum elongation and differentiation, it is actually the developing epididymis that enlarges and holds the testis towards the developing scrotum during the process of descent (Figs.
1
,
2
,
3
,
4
,
5
,
6
,
7
,
8
,
9
and
10
). Histological sections clearly show that the epididymis precedes the testis throughout the entire descent (Figs.
1
,
2
,
3
,
4
,
5
,
6
,
7
,
8
,
9
and
10
). Furthermore, no migration of the gelatinous gubernaculum as presented in a schematic drawing by Hutson is visible in a series of sagittal histological sections [
4
] (Figs.
4
,
5
,
6
,
7
,
8
,
9
and
10
). In contrast, carried by the epididymis, each testis descends from the dorsal abdominal wall into the scrotum, together with a gelatinous gubernacular mass, that dilates the inguinal canal and thus creates space for the descent of the epididymo-testicular unit [
6
]. In a graphic drawn synopsis of testicular descent, Barteczko and Jakob connected the gubernaculum to the caudal testicular pole during the entire descent [
3
] (Fig.
11
). This depiction however, is not confirmed by precise histological examination and therefore needs to be corrected accordingly (Figs.
1
,
2
,
3
,
4
,
5
,
6
,
7
,
8
,
9
,
10
and
11
). The gubernaculum is attached proximally either to the Wolffian duct or to the caudal pole of the epididymis, but never to the testis (Figs.
1
,
2
,
3
,
4
,
5
,
6
,
7
,
8
,
9
and
10
).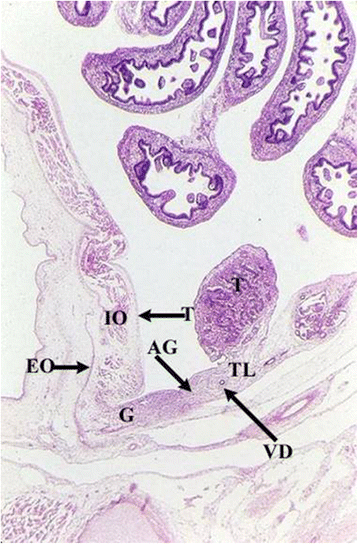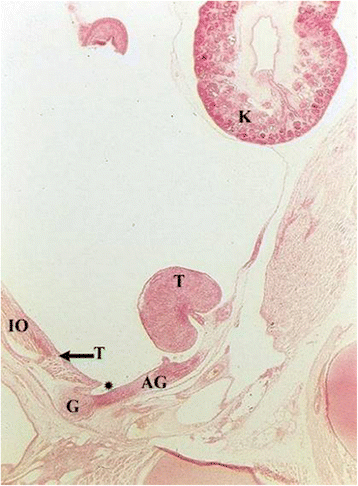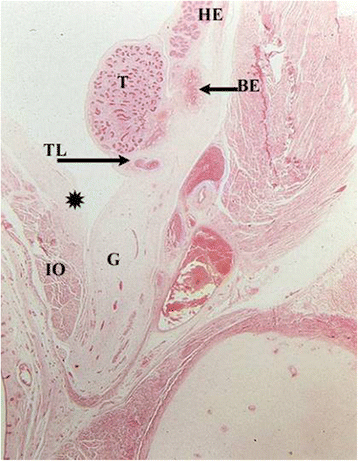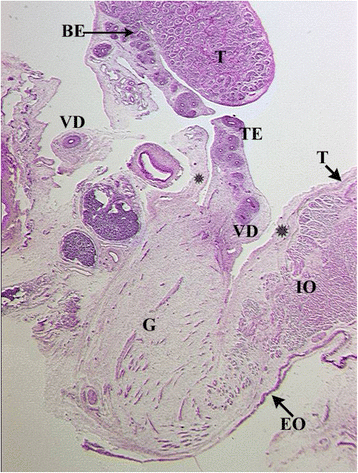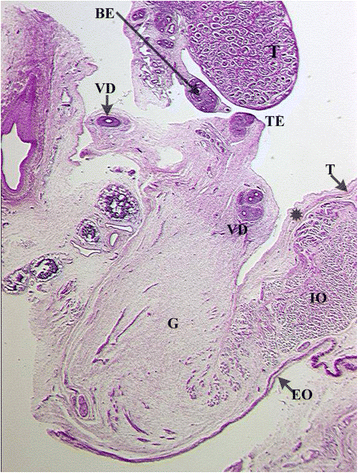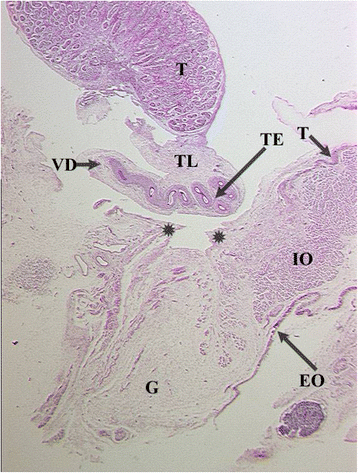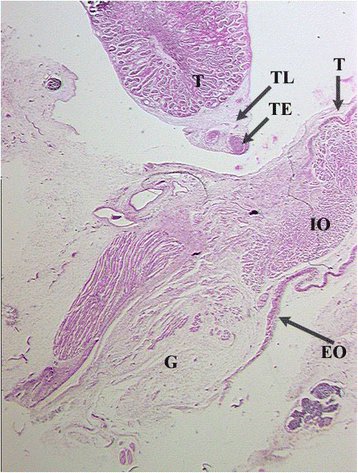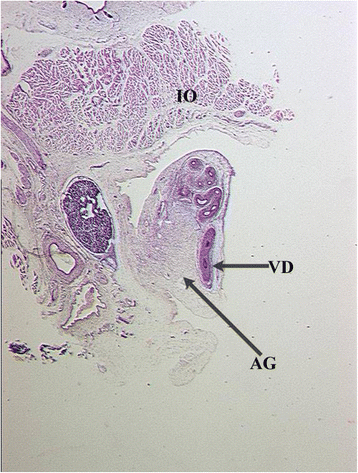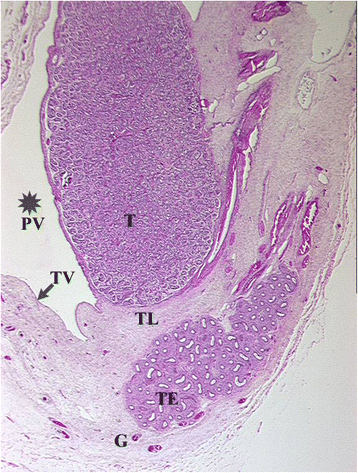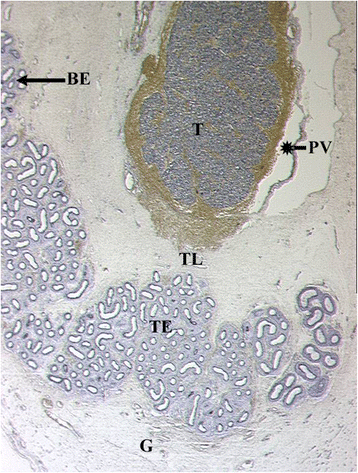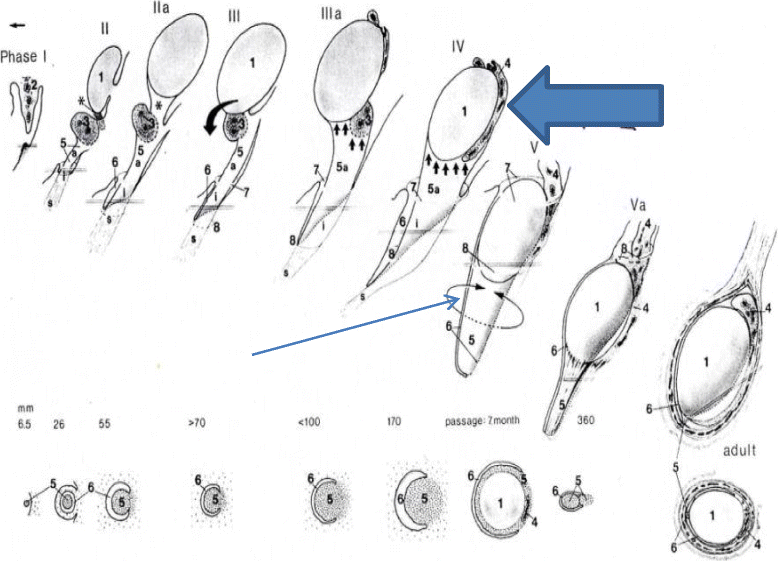 Evidence so far suggests that Wolffian duct elongation occurs primarily through a combination of cell proliferation and cell rearrangements [7]. In rodents Wolffian duct coiling moves from proximal to distal in a temporal fashion and the initial stages are planar (i.e., the coiling occurs at the two-dimensional level) [7]. It has been hypothesized that the reason for the length of the duct is that without it sperm maturation would not have enough time to occur [7]. In turn, coiling of the Wolffian duct into a 6 m long ductus epididymis that is then packed into a 5-cm long epididymal sheet starting from the proximal towards the distal produces forces that are important for epididymo-testicular descent [8]. Thus, disturbances of epididymal development results in a cryptorchid position of the epididymo-testicular unit [6, 9, 10].
Conclusion
Five main conclusions are possible based on the available evidence to date.
First,
hypogonadotropic hypogonadism is the most common cause of cryptorchidism. Molecular observations support a crucial role for PROK2 in the pathophysiology of cryptorchidism with impaired
PROK2/CHD7/FGFR1/SPRY4
gene expression inducing LH deficiency as controlled by the regulators
EGR4
and
PITX1.
Second
, unilateral cryptorchidism is a bilateral disease and a serious andrological problem.
Third,
hormonal treatment successfully induces epididymo–testicular descent (Table
3
).
Fourth,
the most severe associated infertility is seen in men with a history of cryptorchidism who had the greatest impairments in mini-puberty and completely lacked gonocytes translation into Ad spermatogonia in both testes (Table
3
).
Finally
, when patients at increased risk of infertility (those lacking Ad spermatogonia) received treatment with GnRH, normal semen concentration analyses were observed in 86% of cases. Omitting GnRH treatment, one third of men with a history of defective mini-puberty will develop azoospermia despite successful surgery.
Table 3
Basel concept of cryptorchidism treatment
| | |
| --- | --- |
| 1. | LH-RH 1.2 mg/ day for 28 days; |
| | If no or partial success: |
| 2. | 500 IU hCG / week for 3 weeks; |
| | If no descent: |
| 3. | Orchidopexy and bilateral biopsy; |
| | If no bilateral Ad spermatogonia: |
| 4. | LH-RH 10 μg on alternate day for six months. |
Abbreviations
AIRN:

Antisense of IGF2R Non-Protein Coding RNA
AMH:

Anti- Müllerian hormone
CHD7 :

Chromodomain Helicase DNA Binding Protein 7
CYP19A1 :

Cytochrome P450 Family 19 Subfamily A Member1
DMRTC2:

DMRT Like Family C2
EGR1:

Early growth response 1
EGR3:

Early growth response 3
EGR4:

Early growth response 4
FENDRR:

FOXF1 Adjacent Non-Coding Developmental Regulatory RNA
FGF:

Fibroblast growth factor
FGFR1:

Fibroblast growth factor receptor 1
FSH:

Follicle-stimulating hormone
GnRH:

Gonadotropin-releasing hormone
GnRHa:

Gonadotropin-releasing hormone agonist
GTSF1:

Gametocyte-specific factor 1
hCG:

Human chorionic gonadotropin
HOTAIR:

HOX Transcript Antisense RNA
HSD17B2:

Hydroxysteroid 17-Beta Dehydrogenase 2
INSL3:

Insulin-like factor3
IU:

International unit
LEP:

Leptin
LH:

Luteinizing hormone
LH-RH:

Luteinizing hormone-releasing hormone
LH-RHa:

Luteinizing hormone-releasing hormone analogue
lncRNAs:

Long noncoding RNAs
NANOS2:

Nanos C2HC-Type Zinc Finger 2
NRG1:

Neuregulin 1
OR:

Odds ratio
PAX7:

Paired Box 7
PITX1:

Paired like homeodomain 1
PIWI 1:

P-element-induced wimpy; Piwi Like RNA-Mediated Gene Silencing 1
POU2F2 :

POU Class 2 Homeobox 2
PROK2:

prokineticin 2
PROP1:

PROP Paired-Like Homeobox 1
RAF1 :

Raf-1 Proto-oncogene, serine/threonine kinase
RBMY1B :

RNA Binding Motif Protein, Y-Linked, Family 1, Member B
Sb:

Polarized sertoli cells
Sf:

Fetal sertoli cells
SOHLH1 :

Spermatogenesis and oogenesis specific basic helix-loop-helix 1
SOS1:

SOS Ras/Rac guanine nucleotide exchange factor 1
SPRY4:

Sprouty RTK signaling antagonist 4
T:

T Brachyury transcription factor
TAC1:

Tachykinin precursor 1
TERT:

Telomerase reverse transcriptase
WHO:

World Health Organization
XIST:

X inactive specific transcript (Non-Protein Coding)
Declarations
Funding
No funding was received for the present work.
Availability of data and materials
The datasets used and/or analyzed during the current study are available from the corresponding author on reasonable request.
Competing interests
I declare that I have no financial or non-financial competing interests.
Publisher's Note
Springer Nature remains neutral with regard to jurisdictional claims in published maps and institutional affiliations.
Open AccessThis article is distributed under the terms of the Creative Commons Attribution 4.0 International License (http://creativecommons.org/licenses/by/4.0/), which permits unrestricted use, distribution, and reproduction in any medium, provided you give appropriate credit to the original author(s) and the source, provide a link to the Creative Commons license, and indicate if changes were made. The Creative Commons Public Domain Dedication waiver (http://creativecommons.org/publicdomain/zero/1.0/) applies to the data made available in this article, unless otherwise stated.
Authors' Affiliations
(1)
Cryptorchidism Research Institute, Kindermedizinisches Zentrum Liestal, Liestal, Switzerland
(2)
Pediatrics at the University of Basel and Director of Cryptorchidism Research Institfigute, Kindermedizinisches Zentrum, Liestal, Switzerland